Koehler-Oriented Dog Training
www.obedience4life.com
Trainers Cindy Brevik and Jennifer de la Torre
will start a new
10-Week NOVICE Obedience class on
Wednesday, In Progress at 7pm.
Thursday, In Progress at 7pm.
Class will be held in the parking lot of:
Angeles Animal Hospital
1778 E. Los Angeles Ave.
Simi Valley, California 93065

For Information contact:
Jennifer@obedience4life.com & Cindy@obedience4life.com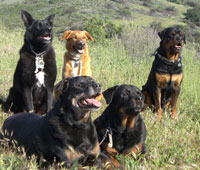 -------------------------------------


Call for Information
805.657.0695
805.791.0828

Anesthesia Free Teeth Cleaning
Happy Teeth
Anesthesia Free Teeth Cleaning
Gentle In-Your-Home Service
805.300.7536
Balcom Canyon Pet Lodge
petlodge@msn.com
(805) 523-7686
7980 Balcom Canyon Rd.
Somis, CA 93066
CARL's Pet Care Center
901 Mission Rock Rd.
Santa Paula, CA 93060
(Just off Hwy. 126 at Briggs)
Voice 805 * 525 * 3212
FAX 805 * 525 * 3220
http://www.carlspetcare.org/
Free Mobile Spay/Neuter Clinic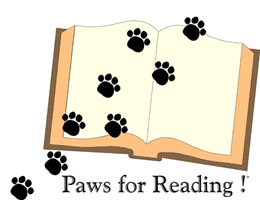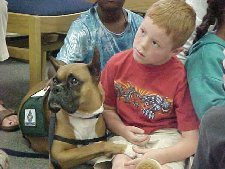 Guide Dogs of America
Direct Line/ fax (818) 833-6445
_____________
Los Angeles County Animal Care and Control
http://animalcare.lacounty.gov/
Los Angeles City Animal Control
http://www.ci.la.ca.us/ani/
San Diego County Animal Control
http://www.sddac.com
Camarillo Animal Shelter
http://www.vcar.us/
Canine Adoption and Rescue League
All Breed No-Kill Rescue

Westside German Shepherd Rescue
Pet Harbor
http://www.petharbor.comPetfinders
http://www.petfinder.com/
The Dog Detective
(register lost dogs)
http://www.dogdetective.com
Find a Pet/Pets911
http://www.findapet.org/index.php
Pet Friendly Motels & Housing
http://www.MovingWithPets.com
nick@MovingWithPets.com
(800) 584-1671 ext:704
People with Pets
www.peoplewithpets.com
Pets R Welcome
www.petsrwelcome.com

Calabasas at Las Virgenes Canyon Rd.
Thousand Oaks at Las Flores Rd.
Camarillo at Camarillo Springs Rd.
***
Be a Considerate Canine Good Citizen
and pick up after your pet!



http://www.pickupmitts.com/muttmitt/mm_home.htm



For Information about Events or to
Arrange a Visit Contact:
info@rescueboutique.com