I offer training for dogs as young as 10 weeks of age. This is a "Get started right" 2 hour session followed up with a special puppy booklet. This class is about puppy safety, nutrition, housebreaking, nipping and learning not to run out the front door. I also teach your children how to behave around the dog. I even discuss how to properly introduce the new baby to the family dog. Many people like to use this special session to get the dog started on the right track until he's old enough for a formal training class.
The formal training class is for dogs 4 months or older. This class will teach you how to train your dog to be well behaved and obedient no matter where he is. He'll learn to walk calmly at your side no matter what is going on around him. He'll learn to do a long sit/stay and/or down/stay in lieu of any distractions around him. He will learn to come to you the first time you call him. Your dog will learn to disregard the presence of other dogs and obey his master's commands. If you do your homework responsibly, as instructed, at the end of the 10 week course you'll have an obedient dog that is responsible on or off leash. You'll receive a training booklet that will guide your practice at home.
The current fee for this extensive course is $200 for one dog and $175 for each additional
dog from the same household.
You'll be amazed at how quickly you see changes in your dog's behavior.
_________
DON'T MISS the NEXT CGC
CERTIFICATION!!!
Saturday
February 21, 2009
10am to 1pm
Directions
Dog must be on a leash with either a buckle collar or a slip collar (choke chain) no pinch collars or E-collars allowed.
If dog passes the test you will receive a copy of the test to send to AKC and a bandana for your dog.
Call Cindy for info
& to Register!
(805) 358-1194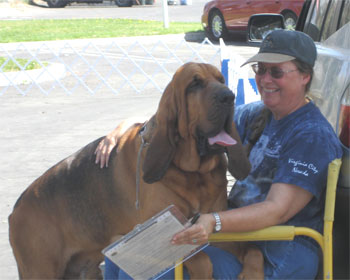 As part of the Canine Good Citizen test, this pup
had to stay with a friendly stranger (Evaluator Cindy Brevik) while the owner hid. Do you think he was trying to sway the judge? All 11 participants passed the test ... but that would be expected since they were all trained at the Canino Dog Training School!!!